Hola mis adorados lectores! En la tarde de hoy les traigo la reseña de Throne of Glass, primer libro de la saga del mismo nombre, de la autora Sara J. Maas.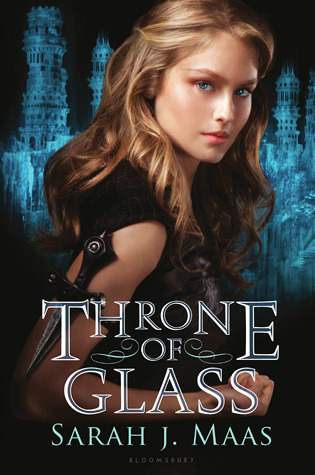 SINOPSIS:
(traducida por mí del cover del libro)
Tras pasar un año forzada a trabajar en las minas de sal para pagar sus crímenes, Celaena Sardothien, una asesina de 18 años, es convocada por el Príncipe a la corona de Endovier. El Príncipe Dorian le ofrece su libertad con una condición: representarlo en la competencia para ser la nueva Asesina Real. Sus oponentes son ladrones, asesinos y guerreros de todo el Imperio, patrocinados por el Consejo del Rey. Si ella logra pasar las eliminatorias y vencer, servirá al reino por tres años y luego será libre.
Aunque las sesiones de entrenamiento con Westfall, el capitán de la guardia, son intensas y alentadoras, la vida de la corte la aburre. Las cosas se vuelven un poco más interesantes cuando el príncipe empiece a mostrar interés en ella, pero es el capitán Westfall quien parece comprenderla mejor.
Y de pronto, uno de los participantes de la competencia aparece muerto…inmediatamente aparece otro.
¿Podrá Celaena descubrir quién es el asesino antes que se vuelva una víctima? Mientras la joven asesina investigue, su búsqueda la lleva descubrir un destino mucho más grande del que haya podido imaginar.
OPINIÓN:
Thrones of Glass llegó a mí gracias a la recomendación de una amiga. Este libro fue emocionante de principio a fin. Solo con saber que la protagonista es una asesina, ya con eso tenía suficiente para saber que sería una aventura extraordinaria. Luego de estar cautiva por mucho tiempo, se le da la oportunidad de volver a la luz o morir (literalmente) en el intento. Esto la llevará a entrenar, no solo físicamente, ya que irá descubriendo muchos aspectos que suceden a su alrededor, y dentro de ella, y tendrá que preguntarse si todo esto vale realmente la pena.
La autora nos ofrece una saga llena de MUCHA acción, con personajes para nada aburridos o predecibles, y una historia súper interesante que los tendrá pegados a sus páginas, con sed de saber qué es lo que sucederá al final con Celaena Sardothien. En cuanto a romance, tiene un leve, o al menos percibo (porque solo llevo un libro leído hasta la fecha) un triángulo amoroso, sin embargo no es lo esencial en esta historia (al menos no de momento). Celaena es mucho más que una simple chica y "doncella", es valiente, no se da por vencida y le gusta mucho la música y los libros.
Sin duda es una saga que voy a continuar, y si alguno ha leído estos libros, dejen en los comentarios, qué les ha parecido esta historia.
Espero que les haya gustado la reseña!
Hasta Pronto!