Qué tal mis adorados lectores! En la tarde de hoy, les traigo The Red Pyramid, primer libro de la saga Kane Chronicles del autor Rick Riordan.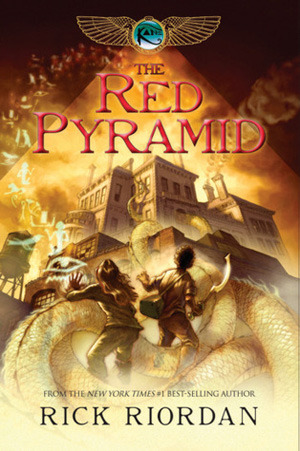 SINOPSIS:
Desde la muerte de su madre, Carter y Sadie apenas se han visto. Mientras Sadie vive con sus abuelos maternos en Londres, su hermano viaja por todo el mundo acompañando a su padre, el prestigioso egiptólogo Julius Kane. La noche en que se reencuentran, el doctor Kane lleva a sus hijos al Museo Británico para realizar un misterioso experimento con la esperanza de arreglar las cosas en su familia.
Pero algo sale mal y, en medio de una gran explosión, el doctor Kane desaparece y los niños tienen que huir para salvar sus vidas. Pronto, Sadie y Carter descubrirán que su padre ha liberado a cinco dioses del Antiguo Egipto y que, el más vengativo de todos, Set, tiene la mirada puesta en ellos. Para detenerlo, los hermanos deberán embarcarse en un peligroso viaje alrededor del mundo; una aventura en la que averiguarán la verdad sobre su familia: pertenecen a una enigmática y mágica orden que existe desde tiempos de los faraones...
"It takes strength and courage to admit the truth."
OPINIÓN:
Antes de leer este libro, ya había culminado la saga de Percy Jackson y los Dioses del Olimpo. Así que esperaba algo similar, pero no sucedió así. Si explica todo lo de los dioses y la mitología de los egipcios, pero es más de lo que yo esperaba. Nunca pensé que aprendería tanto sobre los dioses egipcios con este libro (ya que siempre he estado empapada de la mitología griega y romana). Este libro está narrado por Carter y Sadie Kane, hermanos que han pasado por muchas cosas en tan solo un par de días. Me gustó que desde la página 1 tiene mucha acción.
A medida que fui leyendo me metía más de lleno en la mitología egipcia y sus creencias y fue tan interesante conocer más de ellos. Hasta cierto punto sentí que era demasiada explicación, pero al terminar el libro, sentí que era muy necesario para la historia, pero aun así sentí parte de la mitad del libro un tanto pesada.
Me encantó cómo el autor nos llevó por un camino en el cual todo pensamos que era así, para luego darnos un vuelco y resulta que no era lo que pensábamos! En cuanto a lo que sucede al final, hay muchos de los aspectos que jamás pasaron por mi mente que sucederían así, y lo que pensé que era predecible, no lo fue en lo más mínimo. Espero con muchas ansias leer la segunda parte.
Espero que les haya gustado la reseña. A los que piensan que es un libro de niños, les recomiendo que le den la oportunidad, en mi opinión, vale la pena. No olviden Comentar!
Hasta Pronto!