Hola mis adorados lectores! Hoy es un día muy especial!!. Cumplo 5 años con mi precioso bebé Magical Pieces of Me. Todavía recuerdo hace 5 años cuando tomé la decisión de crear un espacio en donde pudiera expresar todas esas emociones que evoca una de mis más grandes pasiones: la lectura. Claro que en estos años he aprendido muchas cosas y muchos aspectos de la literatura. Pero una de mis gratificaciones más grandes, es el haber conocido tanta gente hermosa que comparte ese amor por los libros y he forjado amistades duraderas y muy especiales para mí.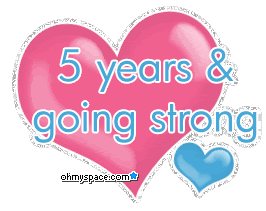 No saben lo súper mega agradecida que estoy con ustedes por leerme día a día, por compartir sus experiencias con las lecturas. Por todas sus recomendaciones que me han llevado a descubrir mundos nuevos y seres fantásticos. Magical Pieces of Me son ustedes, todos y cada uno de ustedes que me leen (y ahora me ven también en mi canal) forman una pieza mágica en mi rompecabezas.
Quiero celebrar estos cinco años de mucha felicidad, esfuerzo y alegría con ustedes. Sin ustedes, este bebé no hubiese crecido en lo que es hoy día, y les prometo seguir con mucho más, ya que esto seguirá creciendo y yo seguiré creciendo con, por y para ustedes.
Mi mensaje fue breve porque debo ir corriendo a clases xD, pero no quería irme sin decirles que los adoro y amo con todo mi ser, y que estoy eternamente agradecida con Dios y con mis bellos lectores.
Los amo y que pasen un excelente día!
Hasta Pronto!