"I fell in love the way you fall asleep: slowly, and then all at once."
Hola mis adorados blogueros! En la noche de hoy les traigo la reseña de The Fault in Our Stars de John Green.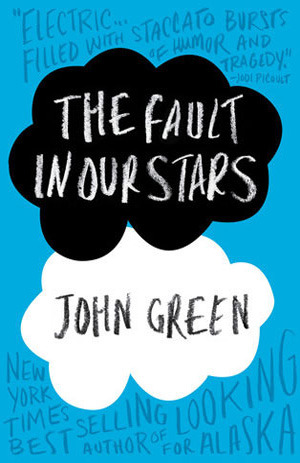 SINOPSIS: (tomada de la contraportada de libro en español)
A Hazel y a Gus les gustaría tener vidas más corrientes. Algunos dirían que no han nacido con estrella, que su mundo es injusto. Hazel y Gus son solo adolescentes, pero si algo les ha enseñado el cáncer que ambos padecen es que no hay tiempo para lamentaciones, porque, nos guste o no, solo existe el hoy y el ahora. Y por ello, con la intención de hacer realidad el mayor deseo de Hazel —conocer a su escritor favorito—, cruzarán juntos el Atlántico para vivir una aventura contrarreloj, tan catártica como desgarradora. Destino: Amsterdam, el lugar donde reside el enigmático y malhumorado escritor, la única persona que tal vez pueda ayudarles a ordenar las piezas del enorme puzle del que forman parte…
"Some infinities are bigger than other infinities."
OPINIÓN:
(Buscando kleenex antes de empezar a escribir). Es el primer libro que leo de este autor. Debo decir que John Green tiene un magnífico don para escribir, hacerte sentir parte de la historia, y luego… provocar los sentimientos más profundos y dolorosos que pueden existir. Este libro es hermosísimo y fue muy bueno (para mí) hasta cierto punto. Algo sucede rumbo al final que simplemente no es lo que yo esperaba. Tal vez mis expectativas eran muy altas, la verdad no conozco la razón de momento. Le di vueltas y vueltas al asunto, no logro dar con "eso" que hizo que para mí, no fuese la perfección. (Ahora que lo pienso, mi reacción con este libro me recuerda un poco a Augustus cuando se frustra por leer el libro "Imperial Affliction").
Hazel Grace y Augustus Waters siempre estarán en mi corazón, tienen su lugar súper especial. Dos personajes que amé con locura y que aún sigo recordando con mucha alegría y nostalgia a la vez. Ambos me enseñaron mucho. Uno de los aspectos más hermosos de este libro, son las frases que uno puede citar del libro, cargadas de mucho sentimiento y que hacen suspirar.
Sé que muchos no están de acuerdo conmigo con esta reseña, ya que sé que a la mayoría les encantó. OJO: no quiere decir que no me gustó, solo que pensé que me iba a gustar más. Planeo leer los demás libros de él, ya que considero que es un gran autor.
It would be a privilege to have my heart broken by you."
Espero que les haya gustado la reseña. No olviden Comentar! Hasta Pronto!