Hola mis adorados lectores! Me disculpo por mi ausencia, primero mi compu estuvo muy enfermita, casi una semana en hospital, y segundo estaba en mis finales de la universidad. Pero ya por fin salí, y aquí estoy de vuelta!!

En la noche de hoy les traigo la reseña de un libro que encontré por casualidad, se trata de Of Metal and Wishes de la autora Sarah Fine.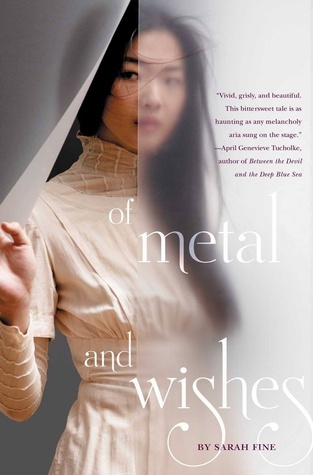 SINOPSIS: (traducida por mí de la contraportada)
Hay susurros de un fantasma en el matadero donde Wen de 16 años asiste a su padre en la clínica, un fantasma que concede deseos a aquellos que lo necesiten más. Cuando uno de los Noor, hombres contratados para trabajar en la fábrica, humille a Wen, ella pide un deseo impulsivamente, y el Fantasma se lo concede. De una manera brutal.

Llena de culpa, Wen hace amistad con los Noor, incluyendo a su líder, un joven llamado Melik. Al mismo tiempo, ella es traída por el misterio del Fantasma y se da cuenta que él la ha estado observando… desde hace mucho tiempo. Mientras más accidentes mortales incrementan la tensión en la fábrica, Wen debe enfrentar sus sentimientos por Melik, quien arde de coraje por los jefes sádicos y el prejuicio que enfrenta su gente a manos de Wen, y su necesidad de apaciguar al Fantasma, el cual está decidido a protegerla contra toda amenaza, real o imaginaria. Ella debe decidir en quién puede confiar, porque mientras su corazón se divide, la fábrica se destruye, y puede que ella también caiga con ella.
"Wen has medicine"
OPINIÓN:
Wen es una chica de 16 años que está viviendo en el matadero en donde su padre, que es doctor y una especie de cirujano, trabaja. Ella sabe coser, ya que su madre siempre le hacía sus trajes desde que tiene recuerdos. Pero ahora su madre ya no está con ella, y le toca asistir a su padre atendiendo a los heridos y enfermos Noor, que llegan para trabajar (mas bien para ser esclavos). Se dice que los Noor son una raza despiadada, solo quieren pelear, cazar, matar y violar. En este matadero pasan muchas cosas, entre esas, un fantasma, que no se sabe si es real o simplemente un truco para asustar a los habitantes de ella. Pero Wen pone a prueba la identidad de este fantasma. Lo que ella no esperaba, era lo que sucedería a continuación.

Of Metal and Wishes fue una lectura que escogí para leer con una amiga, porque pintaba ser de miedo, al final nos dimos cuenta que no es de miedo, pero no trajo una historia muy interesante y diferente. Algunas críticas dicen que es un recuento de "El Fantasma de la Ópera". Yo no he leído el libro, pero sé de qué va la historia y la manera en la que este libro está narrado, hace que se desligue totalmente del clásico y sea una belleza propia.

Al principio no le agarraba el hilo a la historia, pero a medida que fui leyendo, me fui sumergiendo más y más en la historia y quedé encantada con ella. No puedo decir que es un género en particular porque tiene de todo un poco: es como una mezcla de steampunk, gótico, YA, una pizca de distopía, y romance. La verdad es que deben leerla para que hagan sus propias conclusiones. El tema del racismo, la inflación injustificada y demás injusticias de los que tienen más poder económico se hacen muy presentes en la historia, pero sin llegar a ser tedioso o aburrido (sé que a muchos puede aburrirles estos temas). La autora los plantea y entrelaza en la historia ágilmente.

Y, ¿qué decir del romance? Pues está presente de una manera muy sutil y linda. Se desarrolla muy muy bien, y quedarán suspirando. No les contaré más al respecto. En resumen, es un buen inicio de una saga (no sé de cuantos libros será, pero el segundo está próximo a salir).

Espero que les haya gustado la reseña.
Hasta Pronto!