Hola mis adorados lectores! Espero que se encuentren excelente. En la mañana de hoy les traigo la reseña de la trilogía de Kissed by an Angel de la autora Elizabeth Chandler.
(Sinopsis breve de cada libro escrita por mí)
Cuando Tristan, el novio de Ivy, fallece, ella cree que lo ha perdido todo. Pero ahora descubre que él es su ángel guardián y que su presencia es tan fuerte que siente que puede tocarlo y escuchar el latido de su corazón. Ella lo necesita más que nunca, especialmente ahora que su vida está en peligro.
Pero sabe que salvar a Ivy significa que la misión pendiente de Tristan terminaría y tendrá que dejarla para siempre.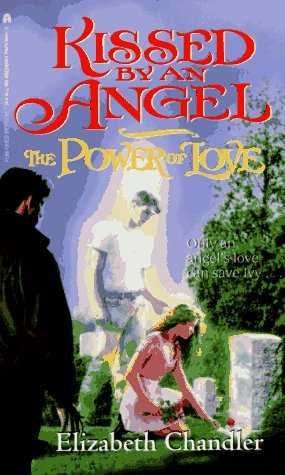 Luego de un mes de la muerte de Trista, Ivy lucha por llevar una vida lo más tranquila posible, aunque eso signifique vivir sin Tristan. Ahora que ha vuelto a creer en los ángeles, sabe que hay un peligro que la acecha y a sus seres queridos. Por lo que debe hacer todo lo posible por evitar otra tragedia.
Del otro lado, Tristan sigue luchando por proteger a Ivy, mientras busca regresar a ella. ¿Será suficiente el poder del amor para que estos dos chicos estén juntos nuevamente?
Después de la muerte de Tristan, Ivy pensaba que no tenía motivos para vivir, hasta que descubre que él es su ángel guardián. Tristan lucha con todas sus fuerzas para que el responsable de su muerte no sea también el de Ivy.
Tristan y Ivy deben unir sus fuerzas para esclarecer los secretos y detener al asesino, antes que sea demasiado tarde.
*Hay una edición con los tres primeros libros con una portada más actualizada. * Click Aqui
OPINIÓN:
Kissed by an Angel empezó siendo una trilogía que se publicó a mediados de los años 90. Cuenta la historia de Ivy, quien ama coleccionar ángeles y cree con gran fervor en ellos, les reza, en especial al ángel del Agua, ya que le tiene mucho miedo al agua. A la vez, su madre se casará con un hombre rico y Ivy, junto con su hermano menor, deben mudarse a otra ciudad. Allí conocerá nuevas amistades y por azares del destino, se enamorará de Tristan, un nadador con un gran potencial. Todo parecía ir bien en la vida de Ivy y su familia. Pero pronto todo esto se verá obscurecido, por la muerte de Tristan que deja a Ivy desolada y sin ganas de vivir… y sin creer en los ángeles.
¿Qué manera de empezar una historia de amor? Fue uno de mis primeros pensamientos al leer el trágico accidente de Tristan. Pero como la sinopsis del libro me indicaba, Tristan volvería en forma de ángel para cuidar y proteger a Ivy, aunque esto fue tan fácil ni cómo me lo imaginé (y en donde no entraré en detalles para no darles spoilers xD). La historia se vuelve súper interesante con todo el misterio del accidente, que aparentemente no es accidente, y de algunos personajes que aparentan ser algo que no son. La amistad, el amor y la fe juegan un papel muy importante en esta historia, y nos llevará a un final que nos dejará con sed de saber más.
En el segundo libro, The Power of Love, tenemos a una Ivy más decidida a esclarecer los hechos sobre la muerte de Tristan. Pero también tenemos un libro más oscuro, ya que hay fuerzas que amenazan con destruir la poca paz y armonía que Ivy trata de tener día a día. Esta secuela me pareció muy buena, porque nos intriga más y nos deja queriendo seguir pasando las páginas hasta que llegamos al final y si el primer libro terminó con un súper final abierto, este lo rebasó y por mucho.
Y finalmente tenemos el tercer libro, Soulmates, en donde todo es más caótico ya que los personajes están contra el tiempo. Los secretos saldrán a la luz y Ivy tiene que hacer todo lo posible por evitar que más tragedias ocurran. ¿Podrá confiar en alguien, o está completamente sola para salvar a sus seres queridos, antes que sea demasiado tarde?
Esta historia me recordó a una película que vi hace muchos años llamada "Dying to Live" o Muriendo por Vivir.
En general la trilogía estuvo bien. Los dos primeros libros me gustaron mucho, todo el suspenso que los rodeaba. El ritmo era bastante constante y fluido y los personajes en su mayoría estuvieron bien desarrollados. El tercer libro no fue lo que yo esperaba, aun así tenía que leerlo para saber cómo terminaría todo esto. A lo mejor fue el final, o que la autora decidiese muchos años después (15 años) continuar la serie a seis libros, pero preferí quedarme en la primera parte de esta historia.
Quizás alguno de ustedes les gustará continuarla. Si lo hacen no duden en comentármelo!
Espero que les haya gustado la reseña. No olviden Comentar!
Hasta Pronto!